The 3 most overlooked pieces of marketing data that can unlock higher ROI
Usually when we think of marketing data, we turn to analytics and KPIs. Hard numbers and stats that give us the plot points of the story, but fail to deliver the rich details that can create major separation from our competitors.
The truth is, some of the valuable insight can be found from sources that most marketers overlook. This insight is the key to unlocking higher ROI and seeing breakthrough performance from your marketing campaigns.
Keep reading to find out where you can mine these nuggets of marketing data gold, and how to cash them in to drive more leads.
1. Call Tracking Data
We hate filling website forms.
The stats don't lie, 81% of people have abandoned a form after beginning to fill it out.
In our experience at BroadBased, especially when it comes to the B2C market, people are much more likely to call you from your website vs. fill out a contact form.
That means if you're not tracking calls, you're missing out on key pieces of data that are critical to wringing the most ROI out of your campaigns as possible.
There's now advanced call tracking software that allows you to track calls from digital sources, as well as offline sources like print, direct mail and TV/radio campaigns.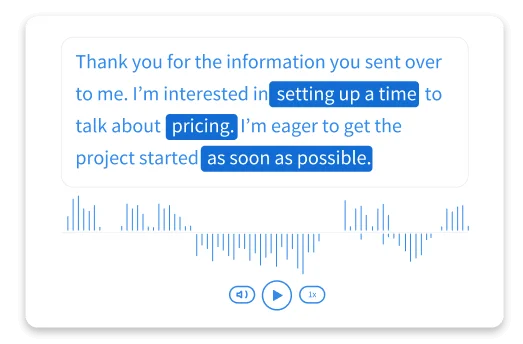 Not only is this data critical to understanding which tactics are generating leads, but you can also record the calls to get a gauge of lead quality.
There's even AI-powered tools that will "listen" to the calls and provide sentiment analysis so you can quickly analyze all your leads and give you a deeper understanding of what your prospects really care about.
This data can then be incorporated into your marketing copy and messaging.
Bottom Line: If you're not tracking calls, you're missing out on both analytics as well as the human element of your prospects.
2. Website Chat Data
Here at BroadBased, we love us some live website chat.
It's emerged as the go-to for people to communicate with a company, with 73% of us preferring live chat over phone or email. 
Stats like this are impossible to ignore, but it takes more than just launching a chat widget on your website to see a serious jump in inbound leads.
The real value is in the visibility that chat provides in the form of the transcripts from your customers and prospects.
Because these transcripts are text-based, you can export them into a spreadsheet and analyze the data with tools like word clouds and visualization software.
Similar to call tracking, this allows you to gain objective knowledge of what your prospects are actually saying, which can be strikingly different than what we as marketers think they're saying.
You can also test different promotions with your chat, and ask key questions such as "how did you hear about us?" as well as qualify leads with budget questions.
Bottom Line: If your sales funnel has some leaks in it, the data produced from live website chat is one of the best ways to patch them up.
3. Salespeople and Customer Interviews
This one is one of the easiest to execute but the most often overlooked.
Who knows better than your own salespeople about what your prospects are saying, and how they feel about your company, product, or service?
And it's not limited to salespeople, it can be anyone that answers the phone when new prospects call.
It's important to talk with your salespeople and receptionists because it provides unique visibility into what prospects really care about. Whether it's price, features or concerns, the people at the tip of the spear hear the unfiltered truth.
Another great way to gain accurate info is to interview your own customers. This can be done informally over lunch, or at scale through online surveys that can be emailed to your customer base.
They'll appreciate that you care about their feedback, and you'll gain unmatched insight that can be used to improve both your marketing and product/service offerings.
Bottom Line: Your frontline folks and customers know the truth straight from the horse's mouth, make sure you're taking full advantage (even if the truth hurts sometimes).
The key to all successful marketing is asking the right questions and never settling for the easy answers. We have a natural tendency to lean on numbers and analytics, and we should, but we can't overlook these outside-the-box sources that can provide us with so much value.
If you're interested in getting more out of your marketing data, get in touch here and we'll perform a comprehensive analysis on your campaigns and show you how to drive more leads with data.